Sunrise Sale
Sunrise Sale
Thursday, July 19th is the annual Sunrise Sale in Downtown St. Pete and we're going all out! Wear your pajamas and join the party! Stores throughout Sundial, Beach Drive, Central Avenue, and more will be offering out deepest discounts possible for ONE day only!
HALF THE STORE IS 70% OFF FROM 7AM-7PM ON THURSDAY, JULY 19, 2018.
The doors will officially open at sunrise, which is likely to be around 6:45--so get here early! We'll be serving coffee, mimosas, and breakfast snacks.
Enter WIN a $500 shopping spree!*
WE CAN ONLY AFFORD TO DO THIS FOR ONE DAY!
So, why are we doing it? We're making room for more brands! We want to give you a wider selection of jewelry. Our showcases are currently FULL, so we can't bring out our new items until we make the space. YOU WILL NOT SEE THESE LOW PRICES AGAIN. So if you want to treat yourself, get some birthday presents, or even early Christmas presents, NOW is the time.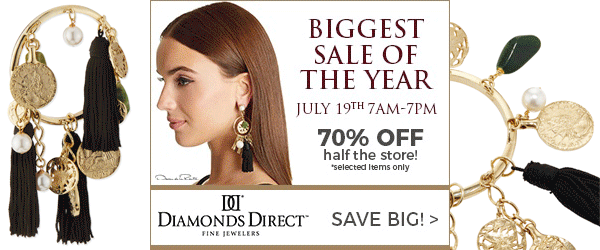 Brands you can save 70% on:
ALL Oscar de la Renta jewelry, ALL Alex and Ani jewelry, select Michael Kors watches, select Versace watches, select Gucci watches, ALL Scott Kay men's jewelry, ALL Noam Carver men's jewelry, ALL William Schraft jewelry, ALL Vahan jewelry, ALL Debbie Brooks items (cuff bracelets, purses, and cell phone cases), ALL Gelin Abaci bridal rings, ALL Philip Stein watches, select DD Swiss watches, and select diamond fashion jewelry.
If you want to get a head start, come to the store and see what you like from these brands--that way you know what to look for on Thursday. If you can't make it, that's okay--we'll have the jewelry on the website available to purchase, too. If you plan on shopping online, please read below:
THIS SALE IS ONLY ON IN-STOCK PIECES. That means that there is only one of each online sale item available. Keep in mind that if you are shopping in-store, you have priority. If you are purchasing an item online, there is a SMALL chance that someone could be in the store purchasing the same item at the same time. To keep this from happening, once an item is paid for online, we will pull it from the floor immediately. We will alter our online inventory as sale items are being purchased in the store to avoid any accidental double purchases. If that's the case, we will call and notify you immediately. Thank you for understanding.
*$500 Shopping Spree cannot be combined with any sale item or any other offer.